Find the Reel that fits your fishing style. What do we look for when purchasing a reel? The quality of the reel pops in our head every time and when fishing saltwater you need to make sure you are buying the right saltwater reel. Fishing saltwater without a saltwater reel will cause the reel to corrode and this will badly damage the way the reel works. The best reels to prevent this are made from Resin, Titanium, and or Stainless Steal. Just because now the search is narrowed down does not mean will be spending a lot. There are tons of reels out there that will work perfect for your style of fishing and will not put a dent into your wallet.
Now figure out what type of fishing you will be doing. Will it be inshore fishing where a better casting reel would work great inshore? Or are leaning more towards deep sea fishing, where casting does not matter but more the line capacity and strength for those larger game fish. Here we decide to use from three options spinning reels, baitcasting reels, or conventional reels.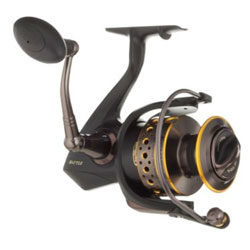 With Inshore fishing the best choice to start with would be the spinning reel. The spinning reel is the easiest reel to use without worrying about the dreaded backlash or rats nest! What is backlash?
An example would be.
School of fish in front of you, you and your buddies are hooking up left and right having the highlight of your trip. You go to cast again and here is where it all happens. You have your finger on the spool casting out just a little to loose and the reel knows it and will decide to strike at any moment but it waits for the right time. As you pull back and over letting your rod tip direct where your lure is going it fly's out heading towards the school of fish. Well the reel does not like to spin and let all that line out but eventually it gives up and starts spinning letting line loose. With the reel now spinning having force behind it, it sees it opportunity to strike once the lure hits the water and it does causing a huge loose, knotted, tangled octopus of line at your finger tip not being able to reel in. With the force that the reel was spinning when the lure hit the water the line stopped but the reel kept going cause the line to back loop all over the place causing the backlash. With you all tangled your out of fishing for a bit as your friends pull in fish around you. So the spinning reel would be the best choice for inshore fishing and not to worry about backlash. There are a few options to choice from when you find your spinning reel do you want from light, to heavy weight. Most of this is the amount of line you can put on the reel. It will said 4/110 for line capacity also 6/110 for braid meaning 4 or 6 being the test of the line how strong it is and the 110 is the amount of line total that can go on the reel. Remember if using braided line to back the spool up first. Braid has a tendency to wear your reel and rods eyes like crazy. Max drag, ball bearing, recovery is another option to look at when you purchase.
The baitcasting reel is a great reel with a better gear ratio for making pulling in those lures a bit easier. Myself when I am out on the water fishing, throwing the line out, cranking it back in for hours you tend to get tired. The baitcasting reel is much easier on the retrieval then the spinning reel with one downfall. BACKLASH!!, yes the dreaded backlash which we talked about previously. With these reels you can use a breaking system that slows in down but you need to make sure you set it correctly before heading out on the water. If you have a weak thumb make sure to add more break on the reel, the less break me more pressure you will have to add while casting. If backlash does happen I put the reel on free spool and pull line out until I get to the main loop where the problem occurred, untangle or un knot the line and work you way back when retrieving the line back into the reel make sure to keep good tension on the line when cranking back in. On the baitcasting reel you will see all the same specs of the reel. 12/175 for line capacity with 30/160 of braid, number of bearing it has, max drag, and recovery. These rods are great rods for those long hours out on the water but will bit if your not cautious.
The conventional reel is a must if you want that trophy tuna or the battle of a lifetime. There are countless reasons why this reel is a must. First, this reel is not for casting long distances like the spinning and baitcasting reels. This reel provides you with the greatest line capacity and cranking power for your money.
The conventional reel is a great reel for the vertical fishing. You have a heavy sinker on and just let it drop waiting or jigging the bottle for that fish. Don't get me wrong you can also use this reel for trolling as well. The reason why most use it for vertical fishing is the cranking power it allows you to have making it almost effortless till that big eye grabs your line or Marlin. These reels come in a few different sizes depending on the fishing you plan on doing the sizes range on the reel for example a 20, 30 or 50. Lets go over a 30 reel to give you an insight on what the conventional reel does over the spinning and baitcasting reel. For line capacity we have 30/600 and 50/1210 braided line, Ball bearing, max drag, recovery 37.0/16.0, and weight. Here we can see the difference on just how much line these reels can hold but also all that line to untangle if you mess up.
Make sure on all reels you check the gear ratio to understand gear ratio think of it as as a gear inside the reel which there is that turns for the line to be retrieved. If you have a one-to-one gear ratio ( 1.0.1 ) this means that that one rotation of the reel handle with have one rotation of the reel spool. A low gear in fishing line will provide more torque when a higher gear ratio will recover the line faster. There are high speed reels and two speed reels that are sold now. Take into consideration every aspect before buying your reel.
Now that you have your reel, if you paid over 200 or below doesn't matter since you did your research and found the reel that fits your needs. With saltwater make sure after every time you go fishing to take apart clean and lube. Saltwater sitting in your reel will hurt your reel in the long run.